Registration desk is located on the first floor until the Keynote speech on the first day. All registrations after that time will be handled on the third floor of the building.
Attendees will be required to present their name and Connpass registration number at registration.
In addition, you will need to show your student ID if you have registered as a student.
If you have registered through Connpass, your registration card can be found on the following links:
Patron/Business/Personal/Student
If you have PyCon JP 2015 Sponsorship (Diamond/Platinum/Gold/Silver) invitation, please tell a member of staff at the registration desk.
By Train:

Yuri Kamome (Monorail) [U08 Station] 3 mins walk from the East exit
Rinkai Line [Tokyo Teleport Station] 15 mins walk from the B exit
All sessions will be recorded.
Pictures and videos will be used for PR purposes. Thank you in advance for your understanding.
Participants may record any part of the conference, unless instructed otherwise.
Power outlet

We have limited number of outlets

Please be considerate of other participants.

Network

WLAN will be provided.

SSID for visitors

PyConJP2015-a : 802.11a/n

PyConJP2015-g : 802.11g

Connection Key: Possibilities

security protocol : WPA2




If your devices support IEEE 802.11a/n, please use the "PyConJP2015-a".

Please refrain from using your own wireless LAN access points (mobile routers) inside the venue.

We expect you to be sensible and responsible for the internet security.

We might suspend the service without prior notice due to unavoidable circumstances.

Any act causing nuisance to others using our network connection is stricktly prohibited.

We will obtain MAC address and SNMP traffic information of the connected devices,

but no personal information will be collected in this process.




Internet connectivity has been provided by INTERNET MULTIFEED CO.

Lunch

Lunch boxes are provided with the conference ticket.

Please receive them from the lobby on the third floor before 2pm.

We have Halal and vegetarian options - just let the staff know :)

Eating and Drinking

No food and drinks are permitted inside the International Conference Room and the Media Hall.

No restrictions in other rooms.

Trash

We will collect the trash that directly comes from lunch, coffee breaks and the party.

Please take care of all other (personal) trash.

Hash-tags
#pyconjp
Live streaming
Misc.

For safety, please don't walk on the escalators.

Arrive early if you can - we are expecting the registration to be very busy right before the Keynote.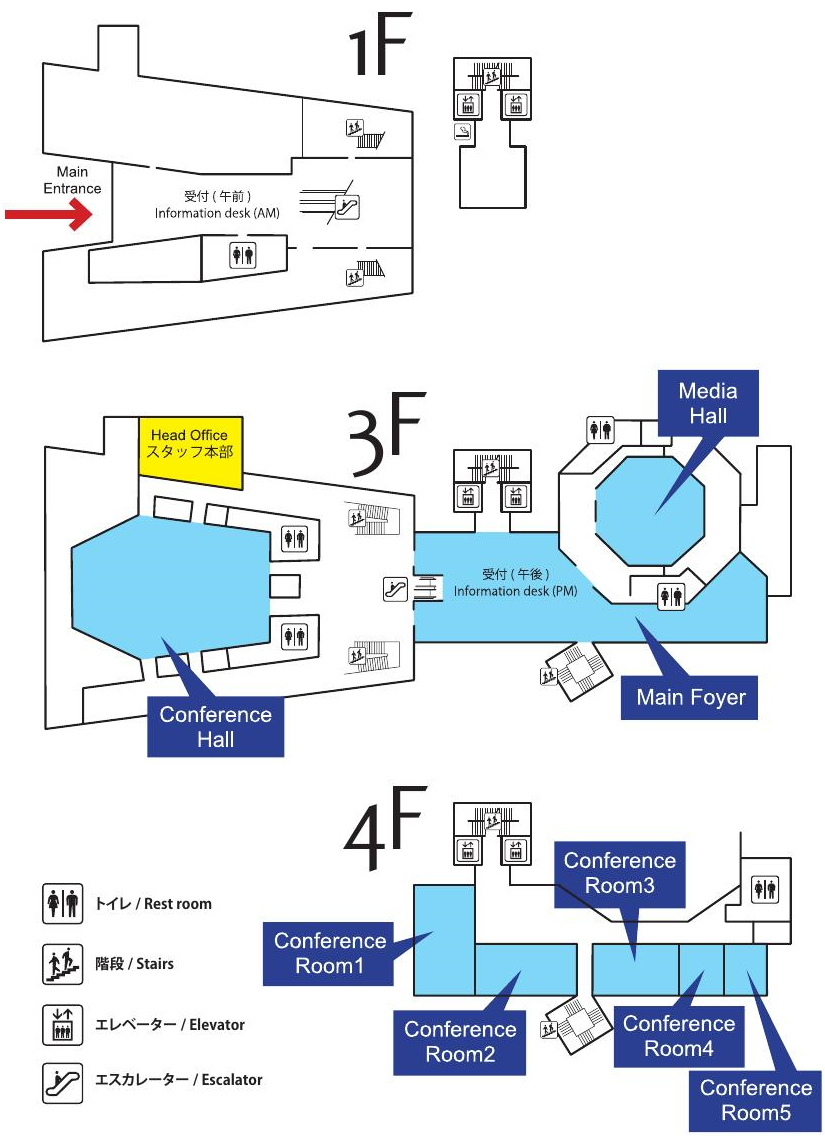 We provide a chat for PyCon JP 2015 participants. We are using gitter chat system. You can join if you have GitHub accout.