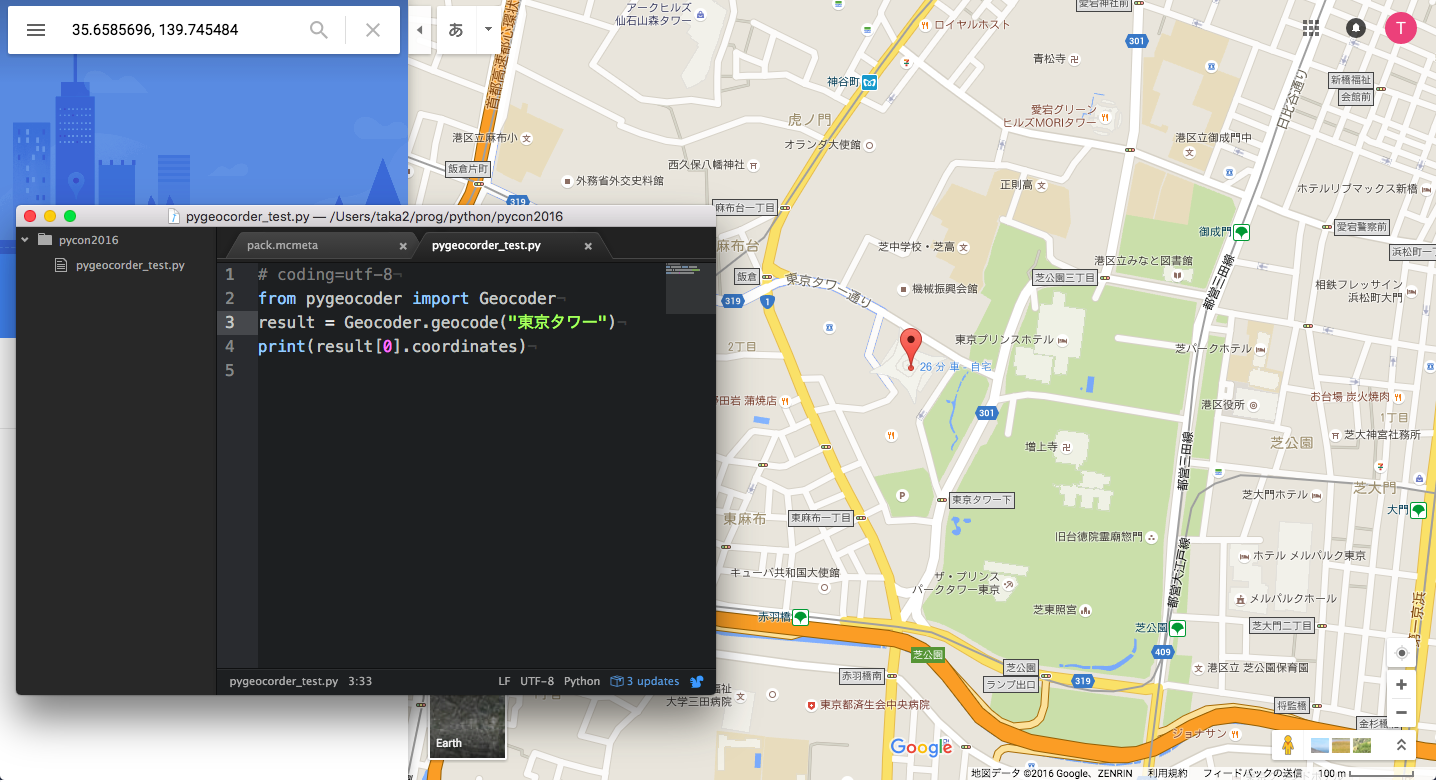 For all the future engineers
At PyCon JP 2016, we will hold a workshop for young coders or future coders
Python is a very powerful language, yet has a simple and human-friendly syntax. The wide range of libraries available allow you to accomplish almost anything using Python, from scientific computing to game design to web or mobile app development.
To show the power and usefulness of Python, we will hold a hands-on workshop for junior and senior high school students at this years PyCon JP, during which they will create a "Cyber Map"!
What is a "Cyber Map"?
​In the past, maps were unwieldy, bulky and hard to use. These days, we have easy to use maps at our fingertips on our smartphones and computers.
In our workshop, students will create their own custom map of their neighbourhood combining different types of data from the internet.
The exact nature of those maps is not set in stone, and we hope the students will create a wide variety of maps using Python in this workshop. They will use Python to collect, aggregate and sanitise their data to be used in their map.
Overview of the workshop
Date and time: Thursday, September 22nd, 2016, starting 9:00 a.m.
Place: Nishi-Waseda Campus, Waseda University 63 Building 1F
Entry fee:

3000yen (includes one lunch)  ※1
4000yen (guardian can join the workshop, includes two lunches) ※2

Students Capacity: 35 people
Audience: from elementary school upper grades to high school students (no prior programming knowledge required)
Application will soon open on our connpass page .
Other
Lecturer: Takaaki Matsuo (TENTO Co. Ltd. affiliation)
Background: Seiko Instruments Inc. semiconductor circuit design, development of a vehicle-mounted camera,Honda Technical Research Institute, now a lecturer teaching programming to elementary and junior high school students partner with TENTO.

※1:workshop participants can join the other PyCon JP events on the same day at no extra cost
※2:guardians may also join other PyCon JP events on the same day as the workshop at no extra cost
This workshop will be conducted in cooperation with the ICT / Programming School TENTO.