Conference registration will be on the ground floor during the morning of the first day, after that it will be moved to the first floor.
Please register at the "Speakers Registration" booth. If are a sponsor or patron on top of being a speaker, please register here. For normal speakers, please provide your connpass registration confirmation. For sponsors, your business card will suffice. If you're a keynote or invited speaker, anything to check your name will be fine.
PyCon JP 2016 Sponsors (Diamond/Platinum/Gold/Silver/Media)
Please register at the "Sponsors Registration" booth. Please bring a business card for us to check your name and company affiliation.
Please register at the "Sponsors Registration" booth.
Business/Personal/Student
Please provide your connpass registration confirmation.
Patrons, Business, Personal and Student ticket holders must provide their connpass registration number and username.
Student ticket holders must provide a valid student ID.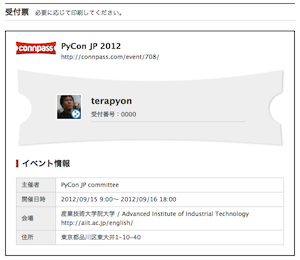 To access your connpass registration confirmation number, please access the URL below:
Patron/Business/Personal/Student
Conference staff will capture the conference on photographs.
Talks will be recorded.
Please note that some pictures will be used on our website.
Please be considerate of other attendees when taking pictures.
Power Supply

Please note that there is a limited number of power outlets available,

so please share them with the other attendees.

Network

Wi-Fi will be available.

Information on how to connect to the Wi-Fi network will announced at the conference.

Lunch

On the first day we will provide lunch boxes, on the second day there will be a buffet for lunch.

Lunch will be served on the ground floor until 2pm.

Halal and vegetarian food will be provided.

Snacks

The university cafeteria will be open during the conference.

Garbage

Please separate the garbage into recyclables.

Hashtag

Please use the hashtag

#pyconjp

when tweeting about the conference

There are the hashtag of each room.

Live broadcast

All talks will be broadcasted live on

YouTube

.

Other

There may be some congestion during registration on the first day, so please come early if you can.